Scrub your body to perfection
Not every time do we leave the shower clean, without a good scrub it's easy to miss the grime around the body. Silicone Bath Body Brush will solves this problem and brings you much more than a great boy wash.
The dense bristles not only scrub away the harmful substances from the unreachable places but open up the pores and remove dead skin to leave your body glowing!

Unlike other options Silicone Bath Body Brush cares for your skin, each bristle is gentle to the touch so no irritation occurs when scrubbing your most sensitive areas. You'll feel as good as new after a scrub



Why Silicone Bath Body Brush is for you
Leave the showering glowing- The dense bristles exfoliate wonderfully while the tiny heads open up the pores for ultimate cleansing.
Reach where you can't- Stretchy and easy to grip, Silicone Bath Body Brush will wash all the hard to get areas leaving them sparkly clean!
Gentle cleansing- Silicone Bath Body Brush soft heads scrub easily while keeping your delicate skin soft and calm so no irritations occur.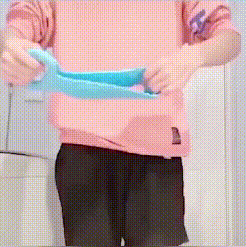 HIGHLIGHTS:
Functional cleaning towel brush - 1cm brush head that quickly foams and penetrates into pores to clean dirt and exfoliates the body for smoother and fresher skin.
Double-sided handle - Designed with handles on each end for convenience and comfort while holding and using.
Ideal for all body types - Suitable for children, elderly, and both genders as well as most skin types.
Durable materials - Made with food-grade silicone for excellent toughness, strong tensile strength, durability, and heat resistance.
Safe and gentle on skin - Health and environmental-friendly, free from BPA and harmful substances that's safe and non-toxic on the skin and perfect for daily use.
Easy to clean and store - Simply wash with soap and water and use handles to suspend or hang on the wall to save space.
This is so helpful for me as i dont have gf or wife to clean my back so this nolunt body wash silicone body scrubber does the job of my future wife work very helpful thing got it and thats it
Quality is worst, not durable ????
nice
Very soft and smooth ????
It is very soft and it will not hurt your skin so I like this.
This section doesn't currently include any content. Add content to this section using the sidebar.